Sound Solutions for
Military and First Responders
Audio quality and reliability are essential in everyday training and ceremonies, but especially so in emergency and critical conditions. Battery powered portable sound systems are ideal for applications such as deployments, ceremonies, training, firing ranges, and speaking engagements because the systems are cable-free. Equally important is ease of use – Anchor Audio systems set up in seconds. Made in the USA and protected by a 6-year industry leading warranty, you can rely on Anchor Audio.
Watch and see what this Navy Officer likes most about Anchor Audio's portable sound systems.
Find Your Perfect Product
Always Intelligible, Reliable, and Simple to Use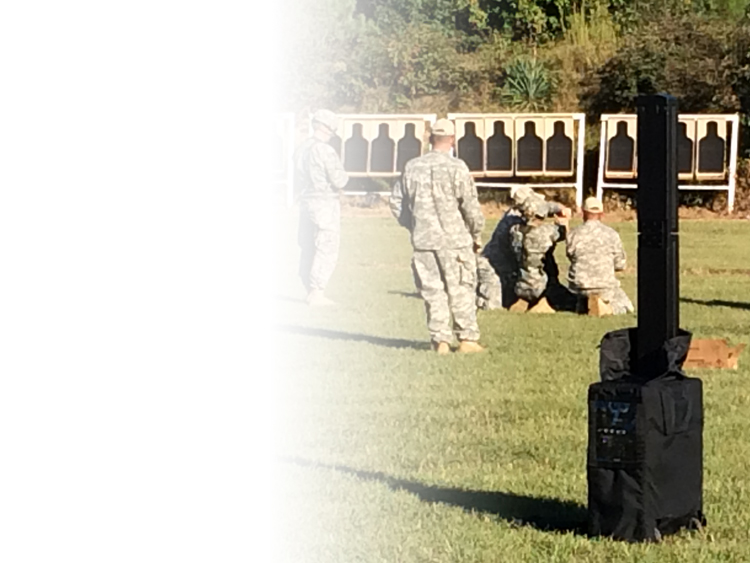 Portable Audio Solutions for Ceremonies & Celebrations
---
---
---
Portable Audio Solutions for Firing Range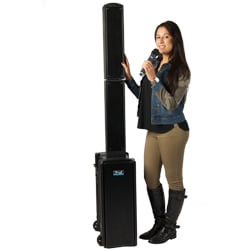 Beacon 2 Line Array
Reaches crowds of 2,500+
Great for music & voice
Standard built-in Bluetooth
Optional: Up to four wireless microphones, AIR compatibility, CD/MP3 combo player
Built-in rechargeable batteries operate 6 – 8 hours on a single charge
---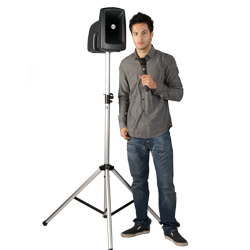 MegaVox 2
Reaches a distance of 300+ feet
Perfect for voice
Standard built-in Bluetooth
Optional: Up to four wireless microphones & AIR compatibility
Built-in rechargeable batteries operate 6 – 8 hours on a single charge
---
Portable Audio Solutions for Training
---
---
---
---
Portable Audio Solutions for Speaking Engagements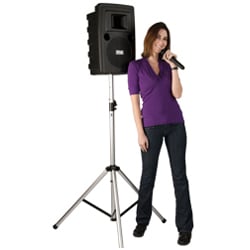 Liberty 2 Sound System
Reaches crowds of 1,500+
Great for music & voice
Standard built-in Bluetooth
Optional: Up to four wireless microphones, AIR wireless companion, CD/MP3 combo player
Built-in rechargeable batteries operate 6 – 8 hours on a single charge (AC option available)
---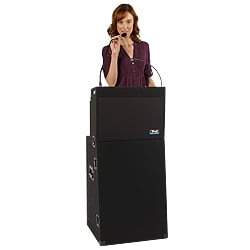 Acclaim 2 Lectern
Reaches crowds of 500+
Great for music & voice
Tabletop stores in rolling base
Optional: Up to four wireless microphones
Built-in rechargeable batteries operate 6 – 8 hours on a single charge
---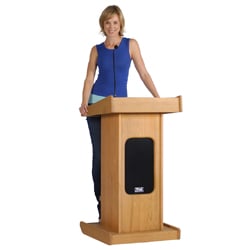 Admiral Lectern
American Oak
Comfortably holds Liberty Platinum or Go Getter portable sound systems
Connects to existing PA system via XLR cable
Tilt-n-roll casters for easy transport
---
Portable Audio Solutions for Crowd Management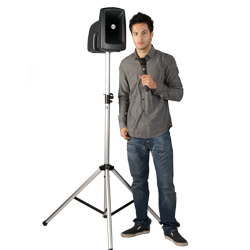 MegaVox 2
Reaches a distance of 300+ feet
Perfect for voice
Standard built-in Bluetooth
Optional: Up to four wireless microphones & AIR compatibility
Built-in rechargeable batteries operate 6 – 8 hours on a single charge
---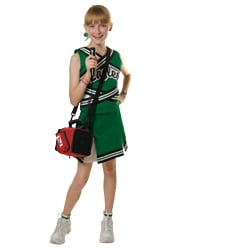 MiniVox Lite Public Address System
Reaches crowds of 100+
Great for music & voice
Optional: Up to two wireless microphones
Built-in rechargeable batteries operate 10 – 12 hours on a single charge
---