ALL-IN-One Systems
A self- contained portable system where everything except the microphone(s) is in one unit
Provides a variety of sound projection possibilities with minimal set up process
Easy setup and break-down; system rolls away on wheels when done
Available in wireless versions that can transmit to multiple speakers around a venue
Available as battery-powered models that can play for hours without plugging in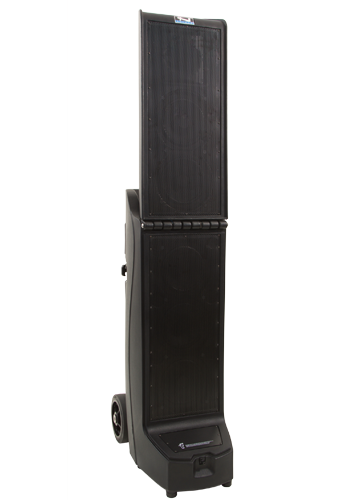 BIGFOOT 2
PORTABLE SOUND SYSTEM
Now with increased wireless and battery performance, the Bigfoot® 2 is the newest, loudest, and most powerful Anchor Audio portable sound system. Designed to cover a football field, this thunderous battery powered system is up to any challenge.
Features
1.9 GHz Wireless Frequency
Connect up to Four Wireless Mics
Built-in Class 1 Bluetooth
Wirelessly Connect Multiple Companion Speakers with Anchor AIR
Lithium Ion Rechargeable Batteries
Customer Reviews
We use Bigfoot for all of our ribbon cutting ceremonies, public meetings, and our special events. It's a tremendous asset to our production team. We would like to thank your company for creating an awesome portable sound system.
Pierre Joseph
City of Miami Beach
We were looking for a system that was easy to use, easy to transport, and loud enough for our multiple practice areas. We found that with the Bigfoot Sound System. We play music every day for practice and the simplicity of the Bigfoot has reduced the time and complexity of our set-up significantly. The sound quality is excellent, the simplicity is awesome, and best of all the coaches are happy! It's the best new addition to our practice set-up.
Jordan Strickler
University of Texas at Austin, Football
We needed a super durable, portable, crazy loud, and easy to use speaker all in one package, something plug and play. The Bigfoot sound system was really the only product that I could find that checked all of the above categories. The system is great for outdoor events where you need to provide significant sound to a large and remote area.
Erik Gronneberg
Rugged Races, LLC
Previous
Next