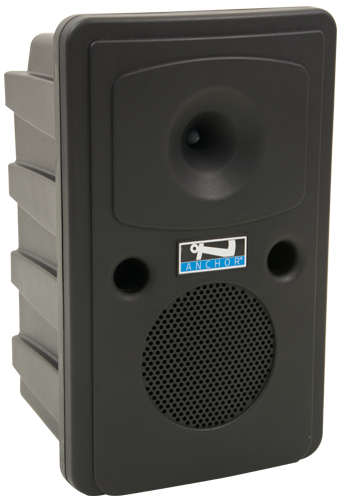 GO GETTER 2
PORTABLE SOUND SYSTEM
The Anchor Go Getter is a compact, expandable PA system that outperforms. The bookshelf-sized free standing system is a small giant that clearly emits 109 dB of sound output from an 80-watt amplifier/mixer and thrills crowds of 500+ with 8 hours of extended battery life. The Anchor Go Getter can accept up to 4 wireless microphones, wired audio sources, Bluetooth, and can broadcast sound to additional Anchor AIR components for even greater coverage.
Features
Reaches crowds up to 500+

Built-in Class 1 Bluetooth

Built-in rechargeable batteries operate 6 - 8 hours on a single charge

Connect up to four wireless mics

Available with or without wireless mic capability
Wireless mics sold separately*

Connect additional units with Anchor AIR

Available with or without Anchor AIR capability
Anchor AIR not standard on all units*
Tech specs
109 dB of clear sound

80W AC/DC RMS

1.9 GHz wireless microphone frequency

300'+ wireless microphone range

Two universal mic inputs

1/4" & 3.5 mm AUX line input

1/4" line output

Built-in rechargeable Lithium Ion batteries

One high output horn tweeter

One 6.5" woven fiber woofer

External speaker output powers optional
FREE STANDING SYSTEMS
Self-contained, portable public address systems, available in a variety of sizes & output power
Stand-mounted and hand-held models; clear, powerful sound for audiences of 500-1500+
Battery operable with advanced energy management and staying power even for longer events
Connectivity for up to 4 wireless microphones for complete, hands-free PA flexibility
Customer Reviews
The [Go Getter] sound system arrived today and it is wonderful! High marks to whoever designed this system. We set it up this morning and it is super easy to use and sounds great! It is going to be a great addition to Girl Scouts. Very useful at events and programs and lots of uses at our summer camps.
Sue Perles, CEO
Girl Scouts of Alaska
The flag football and cheerleading teams LOVE the Anchor audio system. Its working great! The soft cover has pockets on both sides, which can each store a mic and cord with room to spare. Aside from the speaker in the case, we have a bag that holds a speaker stand and a couple of mic stands and that's the whole system! One person can easily carry it all in a single trip. The Go Getter has a nice grippy grab handle and there is a flap that lets you access the carry handle with the cover in place. It's perfect.
The Go Getter speaker has allowed our program to better meet the needs of our school, while also staying within budget. We've used it for everything from sharing important information with large gatherings, to enabling students to play music while learning and celebrating dances. Its portable size makes it very convenient and easy to grab and go all over our campus.
Colleen Gifford
ImpactNW, Oregon
Previous
Next