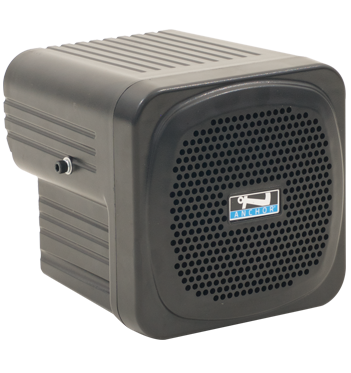 AN-30
SPEAKER MONITOR
The AN-30 is the smallest AC-powered monitor in the Anchor Audio product line and is the ultimate in extreme portability. This tiny powerhouse weighs just one and a half pounds and emits 100 dB of loud clear sound. Connect up to 2 wireless microphones and 1 wired microphone for voice projection. This expandable system lets you daisy-chain units for as much coverage as you need over time and offers flexible mounting options for stands, wall, or ceiling. The AN-30 is perfect for classrooms, AV carts, conference rooms and more.
Features
Reach crowds of 100+
Stand & bracket mountable
Built-in bracket mount screws for easy installation (bracket with Allen wrench sold separately)
Connect up to two wireless mics

Available with or without wireless mic capability
Wireless mics sold separately*
Tech specs
100 dB of clear sound
30W AC
1.9 GHz wireless mic frequency
150'+ wireless microphone range
1/4" mic input
3.5 mm AUX line input
3.5 mm AUX line output to daisy chain multiple units
One 4.5" woofer
Specialty PA systems
Self-contained, portable public address systems, available in a variety of sizes & powers
Acclaim
Lectern model- self-contained portable PA system
Offers clear, powerful sound for audiences of 500-1500+
Battery operable with advanced energy management and staying power even for longer events
Connectivity for up to 4 wireless microphones for complete, hands-free PA flexibility
Councilman, AN1000X, AN30, AN Mini/Minivox
AN Series- miniature powered speakers
Designed for sonic impact with "Swiss army knife" versatility
Accepts 2 wireless microphones plus external sources; loud, clear sound for audiences of 100-250+
Variety of mounting and carrying options; units are easily daisy-chained for even more coverage
Customer Reviews
Unbelievable power and clarity for such a small light weight speaker and we love the color.
Vickie B.
St. Pius X School, Indianapolis, IN
The AN-30 allows all students to hear instruction no matter where they are in the room. The school district is incredibly satisfied with the AN-30 classroom amplification system they received and greatly recommend Anchor Audio's products based on their quality, service, and support.
Summer Vyne
Emtec Inc.
Previous
Next