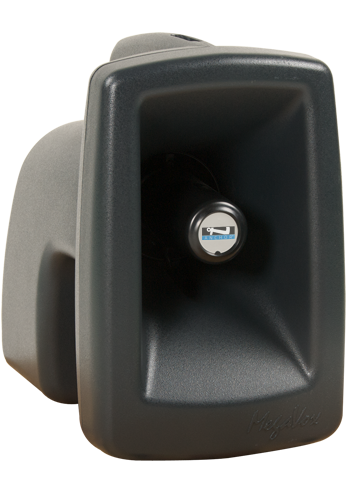 MEGAVOX 2
PUBLIC ADDRESS SYSTEM
The MegaVox is a free standing unit with huge power and clarity for crowds of 1000+. This highly portable design comes with a handle for easy transportation and emits a whopping 119 dB of clear sound levels. Battery operation is good for up to 8 hours and even extended events. The MegaVox accepts up to 4 wireless microphones, wired audio sources, Bluetooth and can broadcast sound to additional Anchor AIR components for even greater coverage.
FEATURES
Reaches crowds up to 1,000+
Built-in Class 1 Bluetooth
Built-in rechargeable batteries operate 6 - 8 hours on a single charge
Connect up to four wireless mics

Available with or without wireless mic capability
Wireless mics sold separately*

Connect additional units with Anchor AIR

Available with or without Anchor AIR capability
Anchor AIR not standard on all units*
TECH SPECS
119 dB of clear sound
20W AC/DC RMS
1.9 GHz wireless microphone frequency
300'+ wireless microphone range
1/4" line & mic input
1/4" line output
Built-in rechargeable Lithium Ion battery
High-efficiency re-entrant horn driver
External speaker output powers optional
MegaVox 2 companion speaker
FREE STANDING SYSTEMS
Self-contained, portable public address systems, available in a variety of sizes & output power
Stand-mounted and hand-held models; clear, powerful sound for audiences of 500-1500+
Battery operable with advanced energy management and staying power even for longer events
Connectivity for up to 4 wireless microphones for complete, hands-free PA flexibility
Customer Reviews
I am an auctioneer and needed a portable PA that would be battery-operated for outdoor use. The MegaVox worked great. I was 'SOLD'.
Auctioneer
Kernesville, NC
Without the MegaVox, there is a high chance our band director would have lost her voice more than once trying to yell from one side of the field to the other. We are extremely satisfied with the Anchor Audio MegaVox. It has been a great addition to the band, worked extremely well for our program, and has helped us improve greatly over the past couple years. The MegaVox system is doing everything we want and need and more!
Annika Pracher, Head of Fundraising
Tuscarora High School Band
The Solid Gold Sound of the UCLA Bruin Marching Band depends on Anchor Audio's amazing speakers for all of our rehearsals. We've used them outdoors even in freezing weather and rain. No other speaker system has been as reliable or had such a quality sound.
University of California Los Angeles
MegaVox is the best option for our marching band! It has totally revamped the way we run rehearsals. Gone are the days we run sticks and gock blocks. By using the MegaVox we are able to run both our Dr. Beat, as well as our headset microphone wirelessly. Through the Bluetooth on my phone or the Dr. Beat itself, I can run a steady metronome while continuing to get feedback to our students.
Peter Manzi
Carlsbad High School Band
Previous
Next