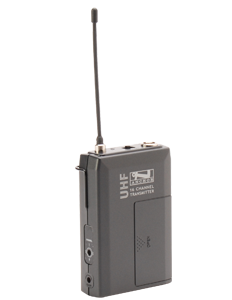 WB-6000
Wireless belt pack transmitter
The WB-6000 is a wireless beltpack transmitter with a TA4F connector plug. It operates on 682 - 698 MHz frequency range and has 16 user-selectable wireless channels. The WB-6000 beltpack is used with the Anchor Audio 6000 and 7500 series portable sound and PA systems.
Anchor Audio is offering a program to upgrade your 600MHz wireless. Learn more
here
.
For a handsfree, wireless experience, the WB-6000 can be used with microphone elements such as the:
Don't have a mic element with a TA4F connector? We recommend the following adapters:
The WB-6000 has a two year warranty. See our warranty section on the
FAQ page
for more information.
For more wireless microphone options, check out our
Anchor Audio Wireless Microphone Options
video.