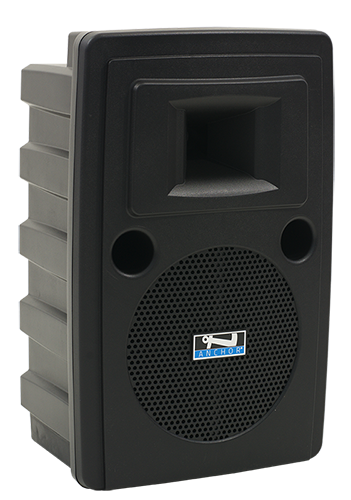 LIBERTY 2
PORTABLE SOUND SYSTEM
The rugged, durable, and expandable Anchor Liberty emits
crystal-clear sound and makes an immense impact at any event. Thrill crowds of 1500+ with e
normous 117 dB of sound output from 200-watt amplifier/mixer with vanishingly low distortion. B
attery operation lasts for up to 8 hours and is long enough for extended events.
Accepts up to 4 wireless microphones, plus Bluetooth and wired audio source. The versatile Anchor Liberty c
an broadcast sound to additional Anchor AIR components for even greater coverage.
FEATURES
Reaches crowds up to 1,500+
Built-in Class 1 Bluetooth
Built-in rechargeable batteries operate 6 - 8 hours on a single charge
Connect up to four wireless mics

Available with or without wireless mic capability
Wireless mics sold separately*

Connect additional units with Anchor AIR

Available with or without Anchor AIR capability
Anchor AIR not standard on all units*
TECH SPECS
123 dB of clear sound
200W AC/DC RMS
1.9 GHz wireless microphone frequency
300'+ wireless microphone range
Two universal mic inputs
1/4" & 3.5 mm AUX line input
1/4" line output
Built-in rechargeable Lithium Ion batteries
One 10" woofer
One ceramic compression driver
External speaker output powers optional Liberty 2 companion speaker
FREE STANDING SYSTEMS
Self-contained, portable public address systems, available in a variety of sizes & output power
Stand-mounted and hand-held models; clear, powerful sound for audiences of 500-1500+
Battery operable with advanced energy management and staying power even for longer events
Connectivity for up to 4 wireless microphones for complete, hands-free PA flexibility
Customer Reviews
I love the freedom to use this unit anywhere. The sound is great, we use the speakers during all of our events on the student union steps. WE use a variety of media and they all work well. I wanted you to know we are very satisfied with your product.
Jewel Gurule
Gonzaga University
We just purchased a new Liberty sound system and it has been great. We have the option to plug it in or use the battery powered option which saves time and money on set-up. We at Bear Lakes have been using Anchor Audio systems for almost 12 years and our staff can't be happier with the service and product we purchased.
PGA Director of Golf
Bear Lakes Country Club, West Palm Beach, FL
I purchased a Liberty sound system from Anchor Audio after my Chain of Command saw the Liberty being used by another squadron in Qatar in the Persian Gulf. It stood head and shoulders above the system we were using at the time. Jealousy, plain and simple, was the motive for the purchase. Simply put, we have to have the best. We use the Liberty in an airplane hangar for large crowds, and the people in the back of crowd can hear every word.
SK2 (AW) United States Navy
I have owned my Anchor Liberty systems for over thirty years. These systems have continued to provide tremendous flexibility in holding outdoor venues in state fairs, athletic events, etc. Take it from one who holds several outdoor events each year, you can do no better than the Liberty Sound System. I do not see the purchase of a Liberty system as an expense, but rather a great investment.
Pastor Phil Nelson
Lakeland Baptist Church, Illinois
Previous
Next