Specialty PA systems
Self-contained, portable public address systems, available in a variety of sizes & powers
Acclaim

Lectern model- self-contained portable PA system

Offers clear, powerful sound for audiences of 500-1500+

Battery operable with advanced energy management and staying power even for longer events

Connectivity for up to 4 wireless microphones for complete, hands-free PA flexibility
Councilman, AN1000X, AN30, AN Mini/Minivox

AN Series- miniature powered speakers
Designed for sonic impact with "Swiss army knife" versatility
Accepts 2 wireless microphones plus external sources; loud, clear sound for audiences of 100-250+
Variety of mounting and carrying options; units are easily daisy-chained for even more coverage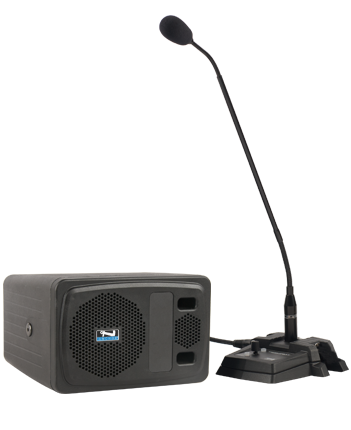 COUNCILMAN
CONFERENCE SYSTEM
The Anchor Audio CouncilMAN® is a portable conference system. This expandable audio solution includes a gooseneck microphone and an AN1000CM unit. Perfect for city council meetings, corporate meetings, board meetings, and more.
Features
AN-100CM+ Powers up to Eleven Conference Mics
1.9 GHz Wireless Frequency
Connect up to Two Wireless Mics
Adjustable Volume Control on Each Microphone
Built-in Bracket Mount Screws for Easy Installation
Customer Reviews
The CouncilMAN is being used in a board room. It was sold by Master Audio Visual in Longview, Texas. Easy to set up and easy to operate. The CouncilMAN is a nice little product.
Jeff Slocum
We loved how quickly and easily everything assembled, the individual volume controls and mute switch arrangement along with the daisy chain connection, and, above all, how great the single speaker covered the entire room. No fuss, no messing with the ceiling, and essentially NO installation cost. How's that for meeting the 'tight budget'?
The Sound Proposition
Love it! Perfect, compact, durable, and the sound is clear. The CouncilMAN is great for any board room!
Walter Glod
Williams-Mullen Law Firm
Previous
Next