CAREER OPPORTUNITIES
Anchor Audio is the industry leader in portable sound systems and portable public address (PA) systems, and prides itself on offering the best quality products on the market, which are proudly manufactured in the United States of America. Anchor Audio's corporate offices are located in Carlsbad, California.
Click here to view our open positions.
ANCHOR CORE VALUES
Anchor Audio C.A.R.E.S. Here's what our core values mean to our employees.
ANCHOR C.A.R.Es.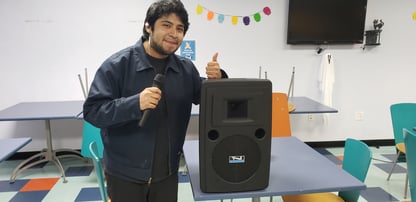 Winner! At Anchor Audio we care about our employees. Cristo participated in our employee Q&A at our last All Teams meeting, which is focused on improving employee communications. He is now the lucky owner of a newly refurbished Liberty 2.
WORK FOR ANCHOR
"At Anchor Audio you're more than just an employee your family!" Check out what our employees have to say about working at Anchor Audio!
ANCHOR AUDIO C.A.R.e.S.
Our core values are anchored to care for our customers, employees, product, and community!