Anchor Audio Frequently Asked Questions
Here is a list of our most frequently asked questions regarding our portable sound systems.
If you do not see your question below, please contact us directly here
How long is Anchor's product warranty?
A: Anchor Audio products are warranted to be free from defects in materials and workmanship for the period of SIX (6) YEARS from the date of original purchase unless listed below.
Warranted for a period of FOUR (4) YEARS:
Rechargeable Lithium Ion batteries
Warranted for a period of TWO (2) YEARS:
All wired and wireless microphones, belt pack transmitters, base station transmitters, base station
All woodworking
CouncilMAN microphones and bases
PortaCom and ProLink 500 systems in their entirety
Assistive Listening systems in their entirety
Accessories, cables, cases, and covers
Warranties are subject to the following conditions:
Products out of warranty cannot be repaired by Anchor Audio.
Product must have been purchased from an authorized Anchor Audio Dealer
Anchor Audio must perform or authorize all warranty services or warranty is void
Warranty is void when equipment is subjected to negligent use, connection to improper power sources, misuse, and operation beyond specifications and limits
Warranty shall not apply to exterior finish, AC power cords, bulbs, or any other failings due to normal wear
Warranty is void when equipment is subjected to adverse temperature, humidity, moisture, or any condition not considered normal environmental conditions
Please Note:
Serial number(s) must match with serial number(s) provided by customer at the time the RMA was issued.
Units under warranty are only covered by one-way return shipping to customer. Customer is responsible for shipping cost to Anchor Audio. If a customer sends in an out of warranty unit, then the customer is responsible for round trip shipping costs.
If Anchor Audio repairs a part that is out of warranty, the customer is responsible for round trip shipping.
To locate an authorized dealer near you, please contact sales@anchoraudio.com. Please contact Technical Support here with any questions, to begin the Return Authorization process, or to verify your warranty period.
I am having issues with my system battery. What are my options?
A: Please refer to your system manual (can be found on the product page for each product) for general battery maintenance and use instruction. If your battery has retired and needs to be replaced, please review our videos on at-home battery replacement, or call our technical support at (800) 262-4671 Ext. 782. We find that simply purchasing replacement batteries and following the instruction in our specialized videos is often the easiest choice for our customers. Go to anchoraudioparts.com to find replacement parts and batteries. To learn more about battery maintenance check out our battery replacement videos.
Anchor recently upgraded some batteries to Lithium Iron Phosphate. Are these batteries safe to use?
A: Yes, the Lithium Iron Phosphate batteries used in Anchor Audio products are safe. Lithium Iron Phosphate batteries are different and much safer than the Lithium batteries that have been in the news recently relating to hover boards and phones. Lithium Iron Phosphate energy density is much lower than conventional Lithium batteries which makes them inherently safe. In fact, there are just as safe as the Sealed Lead Acid batteries that we have used for many years.

In addition, we have been able to successfully navigate all regulatory hurdles so that there are no shipping restrictions or additional charges. We have assured that our batteries have passed all safety requirements, including UN 38.3, CE, IEC 62133, and UL 1642.

As an extra measure of safety and quality, each Lithium battery pack has its own battery management system (BMS). This prevents the battery from undercharging, overcharging, over-discharging, and overheating. The BMS also keeps all the cells balanced which prevents the cells from drifting and harming its long-term performance.
There is a low level noise coming from my sound system when the speaker is idle. Is this normal?
A:When your sound system is on, speakers often have what is called "white noise" particularly when the treble control is turned to the high position. This is not a defect but is a function of the electronic design that allows our sound systems to produce satisfactory audio levels with high battery efficiency.
There is no sound coming from my system, what should I do?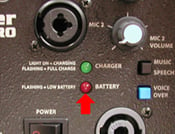 A: Flip the systems power switch on and check the battery indicator light. If the LED light does not turn on or is flashing, then your battery needs to be recharged. Simply plug the system into a nearby outlet using the systems power cord. Leave the system charging overnight for a fully charged battery the next day. You can still operate the sound system while it is charging. To learn more on how to take care of your systems battery check out our battery replacement videos.
My wireless microphone/belt pack does not work, what's wrong?
A: First check that the AA batteries in your handheld microphone or belt pack are good. You can quickly do this by turning on your mic or belt pack and noting whether the red LED light flashes once and stays on, indicating good batteries. If the light does not flash at all or continuously flashes then the batteries need to be replaced.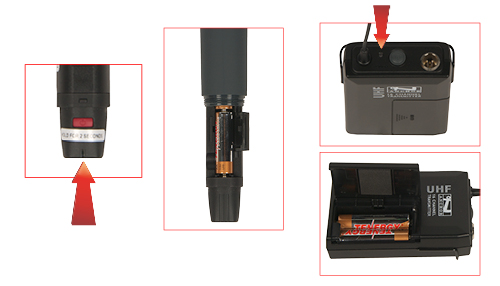 If your microphone is still not working, double check that you have matched the frequency number on the mic or belt pack with the same frequency number on your sound system.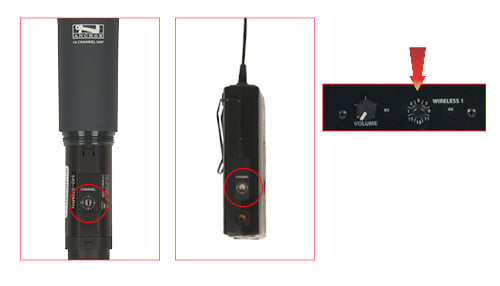 The 600 MHz has been redistributed by the FCC. Is Anchor offering a program to help customers with 600 MHz units?
A: According to the FCC.gov wireless microphones that operate in the 600 MHz service band have been required to cease operation no later than July 13, 2020. In accordance with FCC regulations Anchor Audio no longer supports or manufactures 600 MHz microphones or systems. Modifications and repairs are also no longer available for these systems. New Anchor Audio systems and microphones ARE NOT compatible with 600 MHz systems and microphones. If you are looking to upgrade your current system please contact your Anchor Audio Sales Representative.
What do I do when my sound system is picking up interference?
A: The best way to get rid of interference is to try a different frequency channel on your sound system and dial in the same frequency on your microphone or belt pack. With up to 16 channels to choose from you're sure to find a clear channel.
*This only applies to the 6000, 7500, and 8000 series.
How do I stop from getting feedback through my sound system?
A: Move further away from the sound system when using your microphone. You can roam up to 200 feet away with a wireless mic, just be sure to turn the mic off when you approach the unit to change out CDs or adjust the volume. Please also remember not to stand directly in front of your system, as this can also cause feedback.
Where do I place my sound system to get the best sound distribution?
A: Place your sound system approximately 10 feet from the first row of the audience and in the center of the room or field, see below illustration. The speaker should be at the head-height when facing the audience. If you are using a companion speaker to cover a large crowd, place the speakers on either side of the stage or presentation area for the best distribution.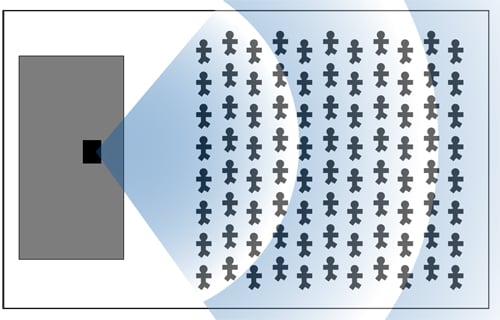 Can I daisy chain multiple AN-Mini sound systems together?
A: Yes! By using the line output feature on the back of the AN-Mini, simply plug in any 3.5mm stereo cable to the AN-Mini's line output connection and the other end of the cable into the second AN-Mini's line input. Repeat this step for adding more AN-Mini systems. IMPORTANT: When connecting multiple AN-30 units (daisy chaining) a stereo cable MUST be used to avoid interference.
What wireless frequency does Anchor Audio operate in?
A: All series 2 wireless products operate in the 1.9 GHz range. All 8000 and F1 series products operate in the 540-570 MHz range. Prior to August 1st, 2014, Anchor Audio wireless products were manufactured and operate in the 682-698 MHz range. This corresponds with products in the 7500 and U1 series. In Europe our products operate in the 863-865MHz range.
What is the gain knob on the wireless beltpack and what does it do?
A: The gain knob controls the sensitivity of the mic. Because various mics with different sensitivities can be used with the wireless beltpack, the gain knob allows all of them to be calibrated for the right situation. In addition, people speak at different volume levels and the gain knob can be used to adjust for that as well. If the system volume is all the way up and you are still not loud enough, simply use the key to turn the gain knob clockwise. If you are too loud or you are hearing distortion, turn the gain knob counter-clockwise. Wireless beltpacks are shipped with the gain set at halfway.
If my unit doesn't have bluetooth can it be installed?
A: Yes! Most of our models are bluetooth compatible. Contact the Anchor Audio Service team to learn what systems are compatible. If you are installing the bluetooth module yourself here are the instructions for Megavox, Go-Getter, Liberty, Beacon, and Bigfoot.
If my unit doesn't have Anchor Air can it be installed?
A: Yes! Most of our models are Anchor Air compatible. Contact the Anchor Audio Service team to learn what systems are Anchor Air compatible. If you are installing the Air module yourself here are the instructions for Go-Getter, Liberty, Beacon, and Bigfoot. The Air Test kit can be found here.
How does the AIR wireless connection work?
A: Simple! An 8000X, 8000XU1, and 8000XU2 (Liberty & MegaVox) include a built-in transmitter - as designated by the X. This transmitter operates on the 902 - 928 MHz frequency, with 100 user-selectable channels. The AIR wireless companion speakers have a built-in receiver which, when set to the same channel as the transmitter, picks up the audio signal.
Can I use multiple AIR companion speakers in one set up?
A: Yes, absolutely. Any 8000X, 8000XU1, or 8000XU2 can transmit to an unlimited number of AIR wireless companion speakers. All units should be set to the same frequency to receive signal. When setting up your arrangement, be sure to point the systems facing the same direction – pointing the systems directly at one another may cause distortion. AIR units can be placed 300+ feet (or more in ideal conditions) from the transmitting main unit.
The battery in my AIR is dead/I am experiencing interference on all channels. Can I connect with a cable instead of the wireless connection?
A: Yes! All AIR units have what we call 'Wired Mode,' which allows the AIR wireless companion speaker to be used just like an unpowered wired companion speaker. Power and audio signal are sent from the main unit to the AIR companion speaker with a cable. Simply power off the companion speaker, flip the switch into 'Wired Mode,' plug in your speaker cable (SC-50NL for Liberty, SC-50 for MegaVox), and the main unit will power the companion.
What is the range of the AIR wireless companion speaker?
A: Each AIR can be placed up to 300+ feet from the main unit transmitter. In ideal conditions, you can place the systems further, however, be aware of physical latency and/or interference. If you are using multiple AIR systems, be sure to center the main unit between all AIR companions.
I am experiencing interference with my AIR wireless companion, what can I do?
A: First, try to change the channel. There are 100 channels to choose from, so be sure to try various frequencies to find a clear channel. You should also double check that your speakers are close enough together to have a strong signal. Be sure all your batteries are fully charged. Additionally, verify your inputs all have a clear signal (such as a wireless microphone, cables, and Bluetooth). Lastly, you can try adjusting the external antennas for a better connection. These fixes may not work for everyone, as there are occasional signals which cannot be avoided (for example being close to a high-power cell tower). In this situation, you can use your AIR companion in 'Wired Mode'. If none of these fixes work, please call us or check out our Anchor Air videos here.
Can I wirelessly connect my Anchor Audio portable sound and PA systems without Anchor AIR? How?
A: Yes! For the Beacon, Liberty, Go Getter, and MegaVox, you can connect your two main units (one unit must have a built-in wireless receiver) using the following directions
Using a 6000-14P cable, connect a WB-8000 beltpack to the line out port of your unit
Match the wireless channel (1-16) on your WB-8000 to the wireless channel on the other main unit's wireless receiver
Ensure that both frequencies are the same on the beltpack and your other unit. Enjoy!
The Bigfoot is a little different, but you can still wireless connect the main units using the following directions.
Plug WB-9000 into main unit using 6000-14P into line out port
Plug ALB-9000 into secondary unit using Mini-15 (AUX cable) into line in port (set to line level)
Make sure both beltpacks are set to the same frequency
Since the Anchor Audio Assistive Listening Devices and AIR wireless companion speakers are both on 902 - 928 MHz, can they work together to create a simple and reliable ADA compliant sound system?
A: Actually, yes! An 8000X, 8000XU1, and 8000XU2 (Liberty & MegaVox) will transmit to the AIR companion speakers as well as the ALB-9000 Assistive Listening beltpack(s). Since all systems are shipped out by default on the 902.000 channel, simply power on your transmitter and receivers (beltpacks and AIR wireless companion), and you instantly have an ADA compliant sound system. Did you know that ADA requirements mandate compliant assistive listening systems for any theater using audio amplification or with a capacity of at least 50 audience members? Try this set up for the easiest solution.